Piano Tuner – Based in St Louis County, MN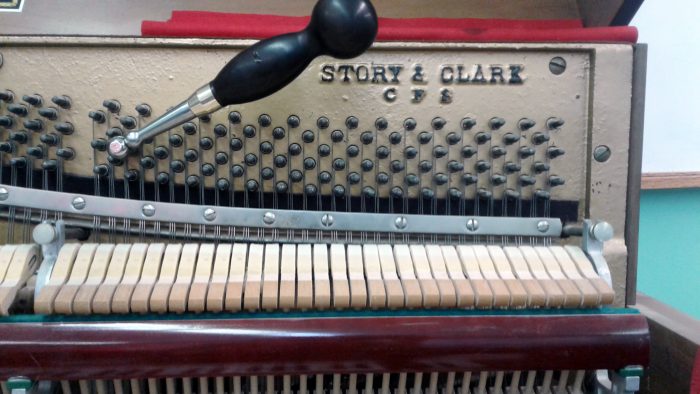 Anderson Piano Service is committed to listening to your needs and working hard to meet them. When it comes to your piano, I'll go above and beyond to ensure it's able to produce beautiful music.
I've been tuning since 1983, and opened my shop in 1994.
I offer a range of services to keep your instrument in its best condition.
I focus on your needs to ensure satisfaction and excellent care.
My shop is locally-owned and –operated, serving the St Louis County, MN area and beyond.
I can recommend piano movers in the area to ensure it is transported with care!
Professional Piano Services
With more than 35 years of experience in piano maintenance, Anderson Piano Service in St Louis County, MN, aims to provide exceptional customer service. I educate my customers about what's needed to maintain their pianos. Partner with me to deliver the best care possible for your instrument. I offer appraisals, repair, rebuilding, restoration, rentals and sales. Excellence in service is my aim for all customers, whether the piano is new or a hand-me-down; every client receives the same diligent attention, whether in St Louis County, MN or beyond. I cover St. Louis County, Itasca County, and Koochiching County, with occasional forays into neighboring counties such as Cass county or Lake county.
I can install humidity control systems for inside the piano. Our climate in northeastern Minnesota can be hard on pianos; Dampp-Chasers can ease that, helping the instrument to stay in tune longer and function properly. Read more about that here.
Our Service Tips the Scales
Anderson Piano Service offers excellent care for your piano. Contact me to learn how your piano can benefit from a custom maintenance plan. Anderson Piano Service is located in northeast Minnesota and serves St. Louis county, Itasca county, and Koochiching county, with occasional forays into neighboring counties.
St. Louis County MN
Koochiching County MN
Itasca County MN
We service communities such as:
Ely MN
Chisholm MN
Virginia MN
Eveleth MN
Angora MN
Cook MN
Tower MN
Orr MN
Hermantown MN
International Falls MN
Effie MN
Bigfork MN
Grand Rapids MN
and everywhere in between
Looking for a Piano Teacher or Piano Student?